Discover more from Art Things Considered
All things creative
I've started playing around with the MidJourney AI, which takes text input and outputs images. It's fun and funky—when you get a good result, it's as if you have painted it yourself; but you may have to try and try and try and try again before you get something that works.
Today's output starts with a devil in his Rec Room, watching television. What could be more of a joke than green grass and white sheep in the Scottish countryside? No doubt they are about to be hit with a thunderstorm or an alien invasion…good times in hell.
I showed that to my wife Donna, and she said what about the angels? What would you suggest, I asked. "Angels laughing at hell frozen over."
As for the first image, there were a lot of false starts. MidJourney doesn't understand things like word order; it just takes your words as a salad and spits out something vaguely recognizable.
Here's one of the first sets of four images for "hell-scape furniture in hell":
I was lucky, really, to get the image at bottom right to work with. I requested the Scottish hills in a separate session, and used Photoshop to put that on the TV.
I had a…devil of a time getting MidJourney to include the gosh-darn TV set in the angel pictures. Here are two worthy attempts that I couldn't use because no TV set.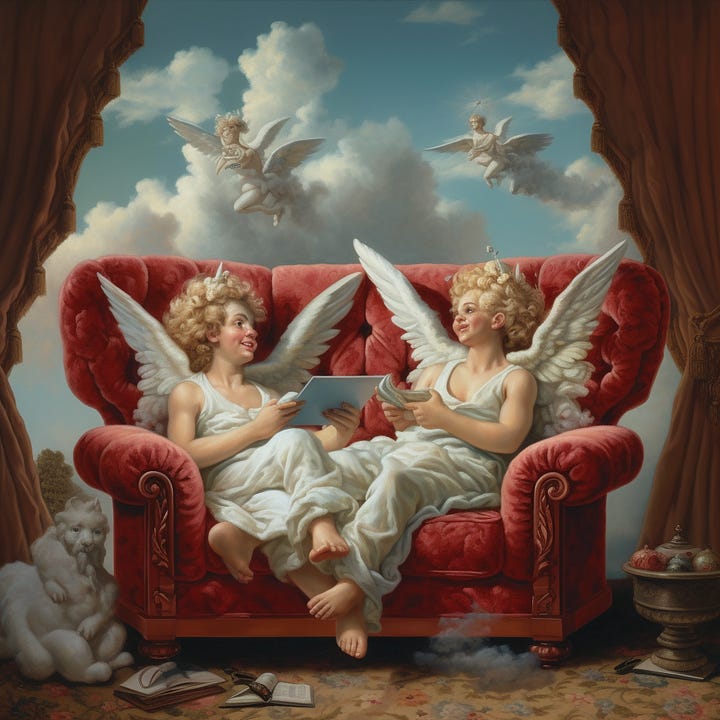 I tried many word-salad combos before I guess I just got lucky with "widescreen TV laughing angels" which yielded one workable image with a TV, used at the top of the page.
So the lesson is that finding the right words to get a good image is pretty challenging. There's a big load of random chance on every roll of the virtual dice. My advice, if you try it, is to try to avoid needing specific features in the image—just keep rolling the virtual dice until you get something you can work with.