Birds, and more Birds
Had an hour of sunshine late morning today; the birds were out and I brought my camera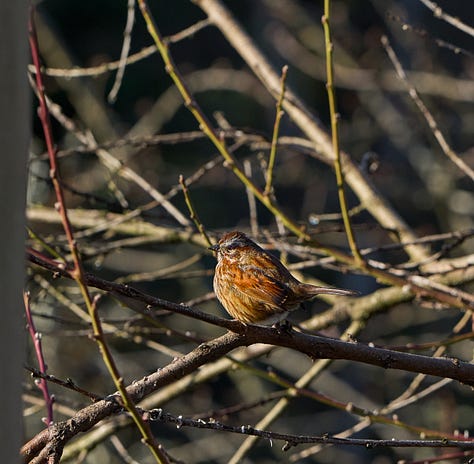 I was testing and comparing two medium telephoto lenses for photographing birds. One is a new classic: the Sony f/2.8 70-200mm II zoom lens. It is dead sharp and works extremely well on the Sony A1.
The other was a third-party lens that has been getting good reviews: the Samyang 135mm f/1.8.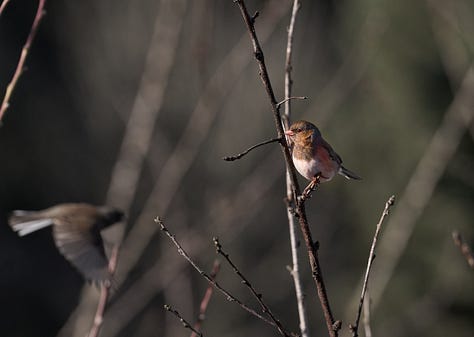 Both lenses did well, but the native Sony lens was easier to use, focused more reliably, and has more flexibility for a variety of reasons. It's also 5x more expensive than the Samyang…
Things that I learned today:
That the native Sony lenses are more reliable on the Sony cameras;

The Samyang lens is extremely sharp and capable, but does not focus as fast or as reliably as the native Sony lens;

Sunshine is better for photography because autofocus is more reliable in bright light because of the excellent contrast between brights and darks.

The Samyang was very difficult to use in low-contrast light before the sun came out; it made error after error in focusing. The Sony lens also had some issues, but they were fewer and less dramatic.

The focusing issues with the Samyang are significant, but the cost of the lens and its actual sharp images make that tolerable. If you owned one, it would be worth studying it to learn where its weaknesses are, so that yo can choose which camera features to use (that is, the ones that work well).

One thing the Samyang had trouble with was selecting the optimal distance to focus at. In the worst (stupidest) case, it decided to focus on a dull, gray shelf rather than a bright and colorful card on the shelf—even though I had been careful put the card, not the shelf, in the focus box.
Although the Samyang doesn't do the best color among my selection of lenses, it's got really good image quality, and beats the color richness of the Sony 70-200 II. Once you get past the focusing issues, it's got wonderful image quality. So I can sort of recommend it, but anyone who gets one should be prepared to study it and learn the subtleties in order to get those amazing results. It's not a point and shoot, but with careful use it can deliver beautiful images.