Exploration of Black and White Photography
Testing a retro lens on a modern camera.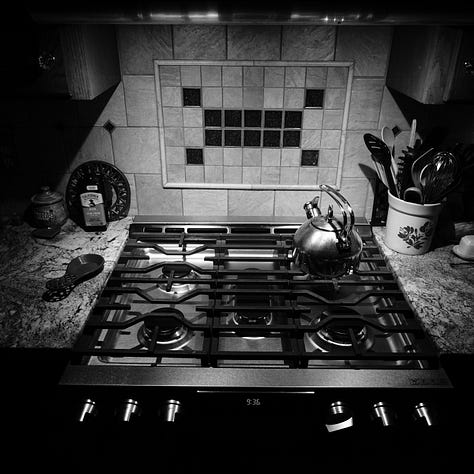 Several years ago, I bought and used one of the classic films cameras: the medium format Hasselblad SWC. It had a lens that I fell in love with: a 38mm Zeiss Biogon.
The technical aspects of the lens are fascinating, including:
The design is old, dating to 1934.

Because it's an older design, it is a non-retrofocus design, which means that the ugly stretching in the corners of lenses designed for 35mm single-lens reflex camera doesn't happen. This lack of distortion is one of the reasons I adore these lenses.

The design is nearly symmetrical, which means it is easier to get sharp images than with modern designs.

The best use of a Biogon, in my opinion, is with a square frame. That was the case with the Hasselblad SWC, which used a 38mm focal length and an (approximately) 6x6cm negative. My 21mm with a 24x24mm 'negative' is proportionally similar to that. It is a joy to work in this format. A square format spurs a whole different thought process, not least because it has the added symmetry of equal width and height.

The lens is limiting by today's design standards. For example, it widest aperture is f/4.5. There are some modern variants of the Biogon that are faster, but generally they are not as wide-angled (e.g., the 35mm Zeiss Loxia). This limitations means that nearly everything in the frame will be at or close to focus, which is again a different way of composing an image compared to modern sensibilities and technology.
As you can see in the image gallery at the top of the page, I got a lot of creative shots just wandering around my house. This lens brings back the pleasure in photography I got from the Hasselblad, and I am glad to have one in my kit again.
Note: I did not have to use the square format; the lens does fill the frame of a 24x35mm sensor. However, it isn't as sharp outside of the central square unless you stop down to f/11 or even f/16. That involves different trade-offs, and although I do use this lens for both square and rectangular formats, I love it most for the square format (plus the lack of distortion in that format).